Lipedema is a chronic disorder that causes an abnormal build-up of fat deposits most frequently on the legs and arms, but also in the area of the buttocks and hips. The disease only affects women and can be divided into three different phases. The first symptoms of this disease are typically feelings of tension and pain in the affected areas.
We recently met with patient Mirijam who has suffered from this disease in the past. Mirijam is now 31 years old and was diagnosed with lipedema 8 years ago.
In the following interview, you will learn about the difficulties that Mirijam faced prior to her diagnosis and how it subsequently changed her life.
Mirijam, what issues were you experiencing before you decided to see a doctor?
I work as a hairdresser, so I spend all day on my feet. I felt a lot of pain in my legs, they were swollen and quite stiff. I felt like I had "fat legs" and I thought I was suffering from too much water retention.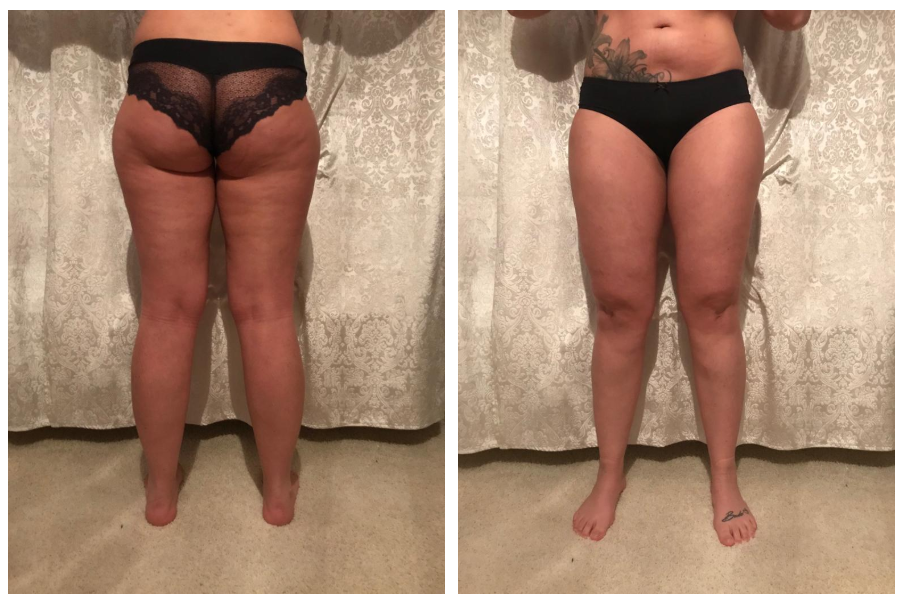 Could you please describe your difficulties a bit more?
Above all, I suffered from a lot of pain coming from the feeling of pressure in my lower limbs, and the skin on my legs was very sensitive and tight. Among other things, frequent bruising is also a symptom of lipedema. In general, you are very limited in your own movement and the feeling of tension and pressure is accompanied by pain. I also struggled with orange-peel like skin, but as I later found out, it was not cellulite, but rather a result of the disease – lipedema.
Were only your legs affected?
Initially, it was only my legs, but later my arms began swelling too. I actually decided to see a doctor thanks to my mum, who noticed the swelling in my arms and became concerned.
What doctor did you contact?
I first visited my GP, but lipedema can only be diagnosed in the office of an angiologist, phlebologist or a specialist varicose veins treatment clinic. In my case, I visited the latter – I underwent an examination of subcutaneous fat in a varicose veins treatment clinic and was subsequently diagnosed with lipedema.
What do you think are the causes of lipedema?
Fortunately, lipedema has become a frequently discussed topic in recent years. When I was diagnosed 8 years ago, however, it was not yet a very well-known disease.
After diagnosis, I sought a lot of information that suggests that it is a hormonal disease. Only women are affected, mostly between the ages of 20 and 55. Hormones play a key role in this regard: puberty, pregnancy and menopause are critical life stages in the incidence of this disease. But lipedema can also have a genetic cause. In my case, I believe that hormonal contraception was a trigger. As soon as I learned my diagnosis, I immediately stopped using contraceptive pills.
How did you react after the diagnosis? Have you made any changes in your life related to the lipedema diagnosis?
The pain and the pressure were so unpleasant that I had to take some precautions. I changed my diet and started doing a lot of sports in hopes that it would help me lose weight and alleviate the pain. I lost 15kg but the areas affected by lipedema (legs and arms) unfortunately did not change. The pain and the sensations of pressure did not go away either.
What exactly was your diagnosis specifically?
I was diagnosed with "grade 2 lipedema in the legs and arms." My doctor provided me with all the information about this disease and prescribed me compression garments and lymphatic massages. Thanks to the compression and lymphatic massages, I felt a little better, but unfortunately these measures did not cure my disease. It often happens that patients with lipedema gain a significant amount of weight in the legs and arms in a very short time, I wanted to avoid that. So the only solution for me was surgery.
Mirijam, thank you for a great interview.
We are preparing further interviews for you about the treatment of lipedema and subsequent recovery.