This time we got together with Natalja Adrejeva, a London-based MLD therapist, and had a lovely chat about all things MLD. Do you want to know what exactly it is and why it is an important part of a post-operative recovery? Read more!
What exactly is MLD?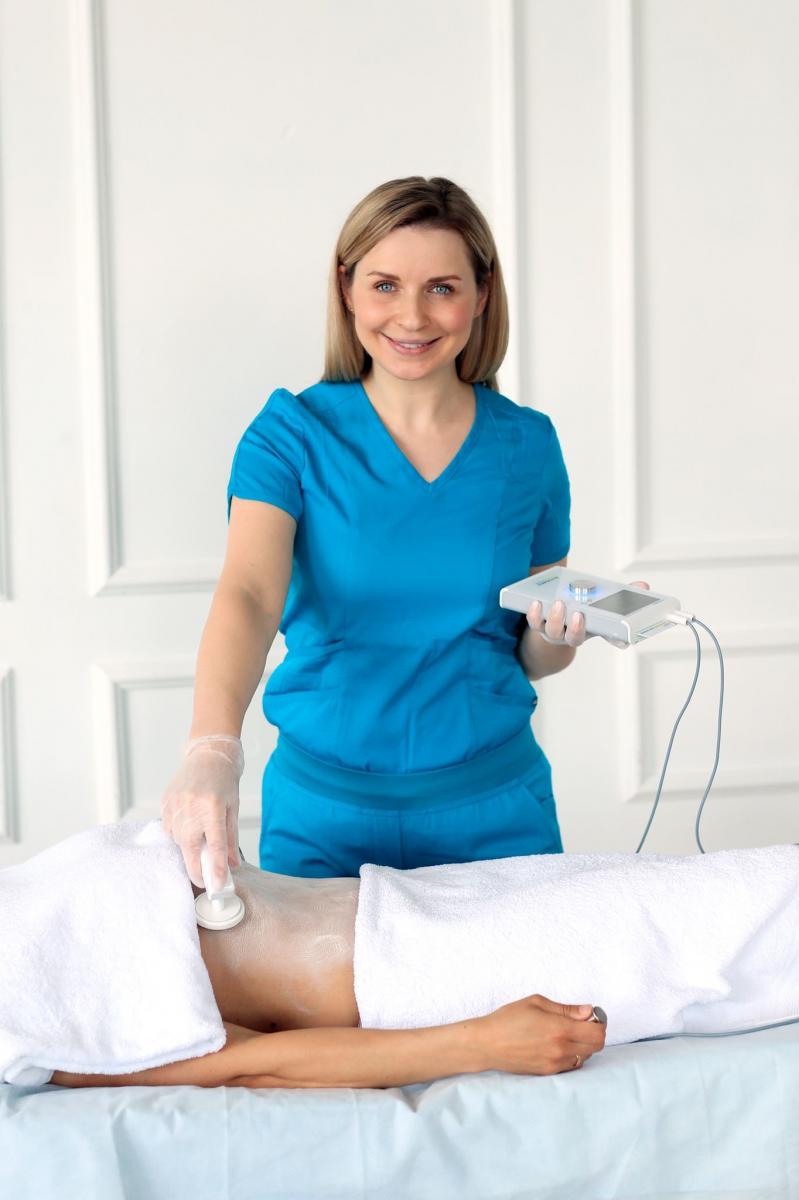 Natalja is originally an NMC Registered Nurse, who spent years assisting Vaser Liposuction and working as a Scrub Nurse in central London.
Having carefully monitored patients during this time, she has gained a deep understanding of what is happening during the Vaser Liposuction to the human body and how important the post-surgical care was.
"MLD stands for Manual Lymphatic Massage. Gentle hand movements are utilised in MLD across the body to promote movement and drainage of the lymph fluid. Because patients are significantly less mobile after surgery, MLD encourages the lymphatic system to work effectively and drain the excess fluid. "
"Our body perceives surgery as an injury. And the injured body will swell. Imagine the swollen body part as a sponge. When filled with fluid, it swells and goes bigger. When you have surgery, it will expand and begin to store the fluids. If you squeeze the sponge, it will release the fluids. "
Manual Lymphatic Massage after liposuction
Manual Lymphatic Massage is generally recommended by plastic surgeons during the recovery period following cosmetic liposuction. It is believed that MLD significantly speeds up the recovery time. Manual Lymphatic Massage after liposuction also plays a role in achieving the desired results. MLD can help to reduce the post-surgical swelling and fibrosis (scar tissue formation).
A role of compression garments in the post-surgical aftercare
Along with the MLD, compression therapy also plays an essential role in post-surgical aftercare. Wearing a compression garment stops the drained fluid from accumulating in the affected area. It can help to reduce the swelling and bruises too.
"Both MLD and compression therapy control the amount of swelling and bruises after the procedure. It encourages a maximum of drainage and supports the muscles and the lymphatic system. I recommend LIPOELASTIC garments to my patients because all the materials are OEKO-Tex certified and skin sensitive. The labels are placed outside to avoid irritation. Also, the garments can be custom-made and there is a good choice of different materials and fastenings."
"My favourite female garment is the MHF comfort, as so many areas could be covered when larger body surface is treated. For the male garments, I like to recommend the MTmL comfort. It goes right under the axillar, where the regional lymph nodes are located. Also, it is not rolling up when you bend or move, and the zipper is very easy to use."
MLD tips
Every human body is different and so is the procedure itself. That is why is always recommend to plan and consult the post-surgical aftercare in advance.
"Depending on the area treated you will need to book your MLD sessions. If it is just a small area like the chin, up to three sessions are required. For larger body areas, you will need more than six on average. To have the full benefit of MLD it is best to receive the treatment as soon as possible after the procedure. It can be done from the day after the treatment."

How to support your lymphatic system
"MLD can be beneficial to people who are not having surgery too. It is supporting the lymphatic system to work at the optimal level and even after one session, you will much lighter and energised. For the best result, you should focus on all the other ways how to support the lymphatic system too. Drink more water, move, dry brush your body, take deep breaths, and stretch. Yoga classes are the best. I personally feel great after each class."