Breast enlargement is the most common cosmetic procedure carried out on women in the UK. Whether you are planning a breast surgery or recently had one, you have probably already spent quite a good time on Instagram trying to do your research. At Enhance Medical Group, you can reach out to their online community, the Boob Buddies, who will share their personal experience and advice with you.
How to look for information about breast enlargement?
In today's world we are surrounded by information, maybe even overloaded with information. But yet, when it comes to something like undergoing surgery, patients are often left feeling anxious as there are still many unanswered questions. One of the UK's leading breast enlargement and cosmetic surgery specialists, Enhance Medical Group, came up with a great idea of how to provide all this information and support to their patients through their breast enlargement journey. And here they are – the Boob Buddies!
Enhance Medical Group is praised by their patients for the individual approach and extra care they provide. There is a team of dedicated Patients Care Coordinators, who assist and support patients along their Enhance Journey from the initial consultation, choosing the procedure suited, trying on different sizes of implants to understand how they will look post-op to compression bra sizing and aftercare. To ensure all their patients are offered a truly personal experience, Enhance Medical Group has introduced the Boob Buddy online community.
Enhance Boob Buddies
Liberty Barnes, the Brand Manager, explains how they came up with this concept and how exactly does it work: "Enhance Medical Group prides itself on patient's support – whether this is our team supporting or our patients supporting one another. We noticed that our patients were going out of their way to help another through their Enhance Journeys. Many of our patients set up their own Instagram account to document their Enhance Journeys and chat to fellow Enhance patients about their experiences. Our Enhance Boob Buddies are unpaid and chat to patients because they want to help others and understand the importance of patient-to-patient support. Our Boob Buddies chat about anything from which bra is most supportive to discussing the 'drop and fluff' process. They are available to be contacted via Instagram and are more than happy to answer anyone's questions about their own Enhance journey."
Breast enlargement tips and social media online communities
Online communities and social media, in particular, have become an inseparable part of our lives. We do not only browse Instagram to entertain ourselves but often to search for information or a piece of advice. Online communities are easy to approach and always available. Plastic surgery can be still considered a private and sensitive topic. Thanks to the recent shift in people's approach to their privacy and social media, topics like breast enlargement became much more accessible. How does it feel to share such a personal experience? We asked Steph, who had breast enlargement surgery last year and became the first Enhance Boob Buddy.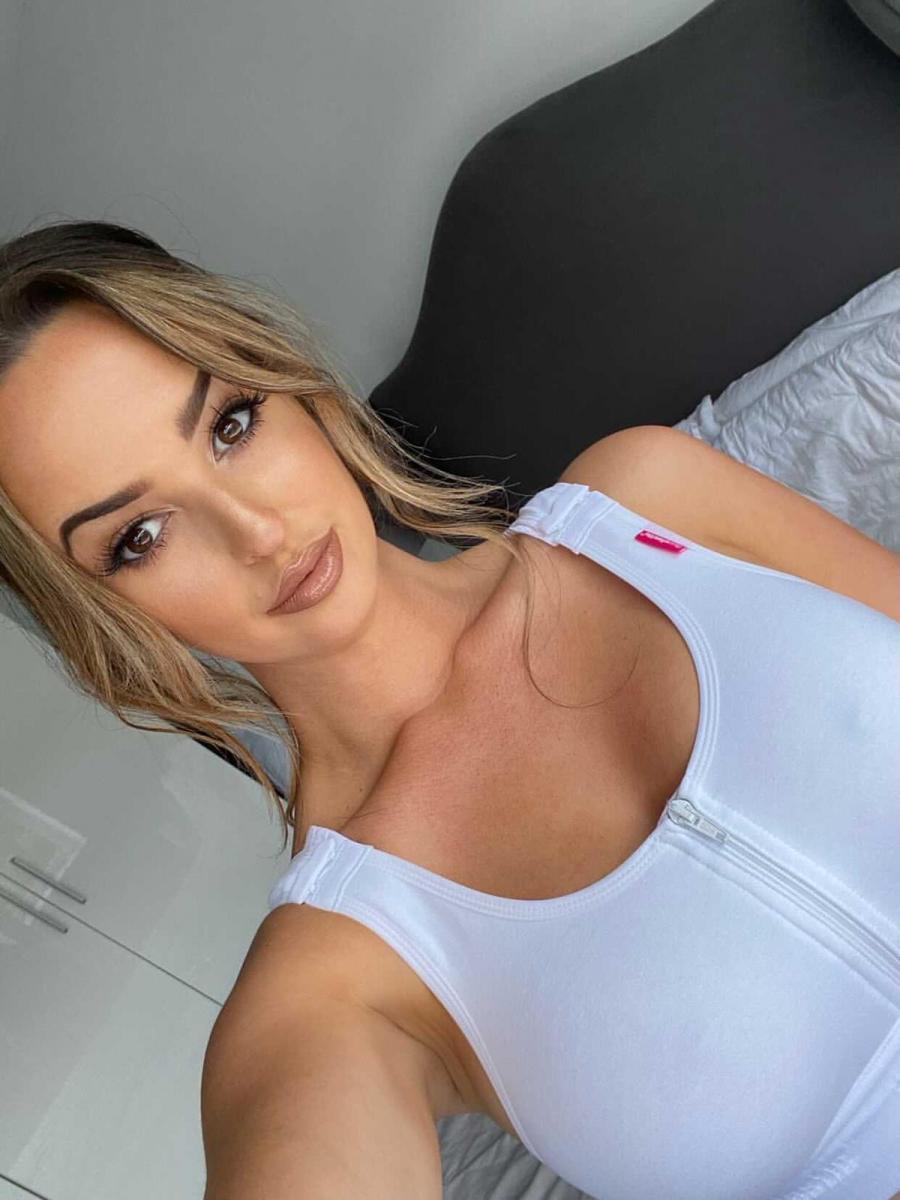 "I had dreamt about having my boobs done for years. After lots of research and consultations I came across Enhance and was instantly drawn to them, their work looked amazing! I decided to make an Instagram account dedicated to my Enhance Boob Journey. I love sharing my experience and giving tips and advice. After few months Enhance reached out to me to ask if I would like their first Boob Buddy and I was thrilled! They are such an amazing company and my experience there was great. It is also really rewarding to be able to help others. Of course, I said yes!"
Breast augmentation aftercare
Like any other cosmetic surgery, breast enlargement requires extensive research on both the procedure itself and the aftercare. There are certain steps patients are asked to follow, including wearing a post-op compression bra, which is also a topic that has gained a lot of presence on social media lately. LIPOELASTIC has happily teamed up with Enhance Medical Group to share anything you need to know about post-op bras.
How to find the best compression bra?
"I was told at the consultation how important it is to follow aftercare advice and I made sure I did everything asked. I did not want to spend all that money on new boobs and not make sure I get the best results possible. One of the most important pieces of advice is to get a good post-op bra. You need something supportive and comfortable. My favourite has to the LIPOELASTIC bras. They are super comfortable and breathable, and I feel like I've good support. I am still wearing mine at 9 months post-op and will continue to do so", Steph explains.
Whether it is aftercare or the procedure you want to learn about, or you are just curious about other patient's journeys and experiences, Enhance community is open to anybody. They are also very easy to access for a consultation as their clinics are throughout the UK including London, Bristol, Cardiff, Liverpool, Leeds, and Manchester.