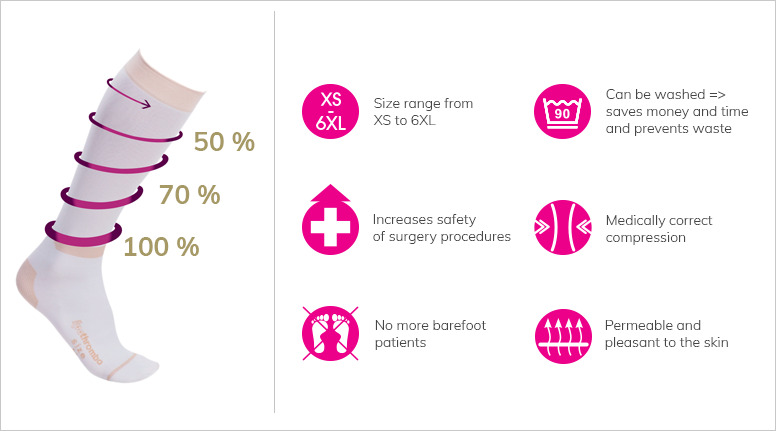 LIPOELASTIC Lipothrombo – anti-embolism stockings
Hello! You have just received your anti-embolism stockings. Lipothrombo stockings are designed to apply pressure on your lower legs, helping to maintain blood flow and reduce discomfort and swelling. Your doctor may feel you could benefit from wearing them as patients are usually less able to move during longer stays in hospital, which puts them in risk of developing blood clots. Lipothrombo stockings have graduated compression, that gently squeezes your legs and feet to increase blood flow. The highest pressure is applied to the area above the ankle and it is reduced in the direction up to the knee to help with the blood flow. Increasing the blood flow reduces the risk of clot formation.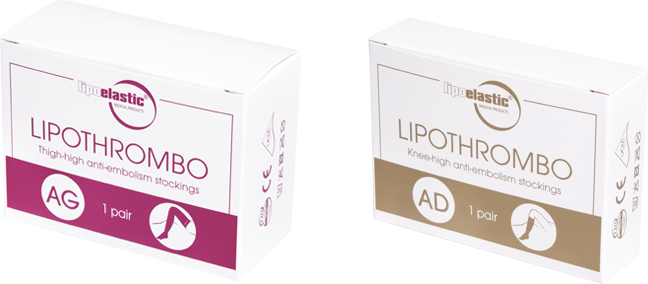 ---
When do you need them?
Blood clots are a cause of longer stays in hospital. When admitted to hospital, your doctor will assess your risk of developing a blood clot. If blood pools in your leg, in may then form a blood clot. This can form a deep vein thrombosis (DVT), which can be potentially life threatening. Small clots may break off from the blood clot and travel to your heart, lungs, or brain. By wearing the anti-embolism stockings, the risk of blood clots can be reduced. If your doctor recommends, the stockings should be worn throughout the whole hospital stay day and night. Your stoking might need to be removed for 30 minutes every day to inspect your skin and undertake personal hygiene. You might also need to wear them at home if your doctor recommends that. Please ask your nurse or doctor for any further instructions.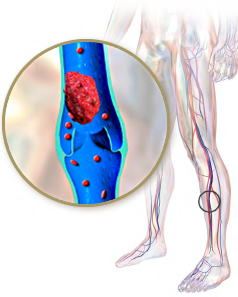 ---
How to use them
The stockings may be difficult to put on and you may need help. The nurse will measure your legs to choose the correct size. The stockings will feel firm because it is compressive, but is should not "cut in" or pinch your skin. If you feel any discomfort, pain, numbness, swelling, redness, blistering or discoloration of your toes, tell your nurse or doctor immediately and remove the stockings. Do not attempt to walk when wearing the stockings, unless you are wearing slippers or shoes, to prevent slipping. Do not leave the stockings rolled down as it compromises the benefit of wearing them. See the instructions below on how to put them on, remove them and how to look after them.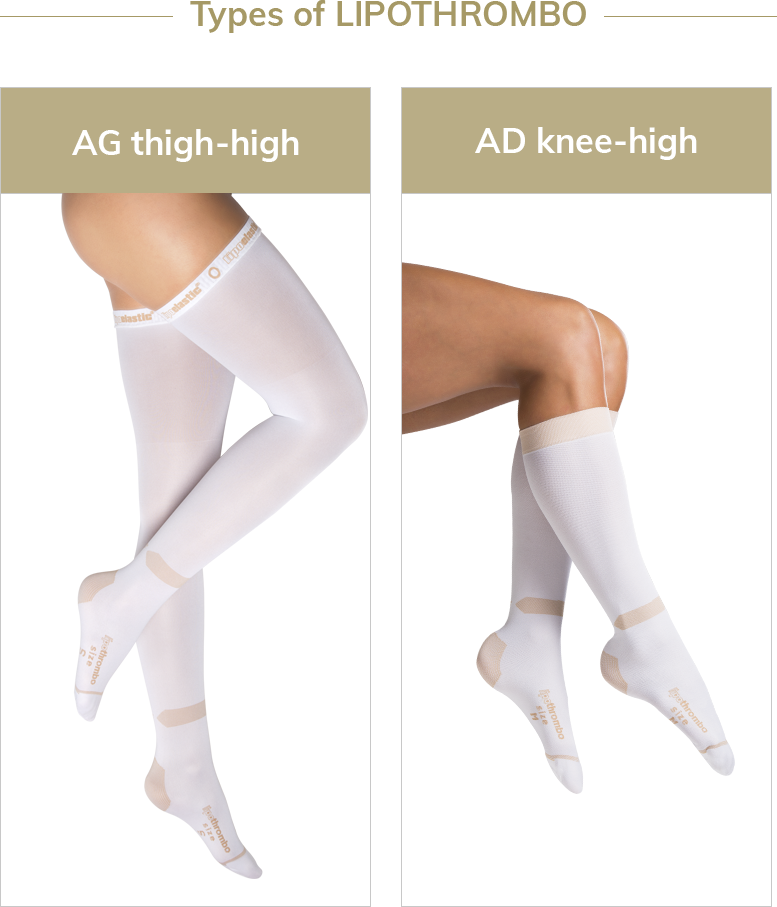 "We wish you smooth a speedy recovery!"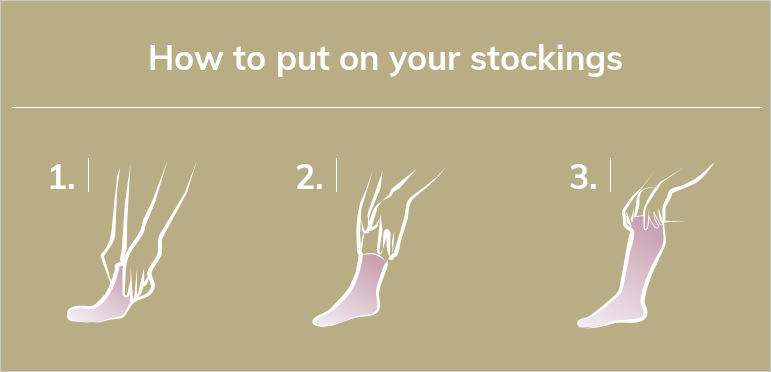 ---
How to look after the stockings
You should exchange your stockings for a clean ones every 3 days or once they become dirty.
The stockings can be washed in the washing machine at up to 90 degrees. Do not use bleach when washing them.
They should not be dried over the radiator or a in a tumble dryer as they could shrink. Dry the stockings at room temperature.
Avoid using ointments on your skin as it could damage the fibres.
---
LIPOELASTIC
LIPOELASTIC is a world's leading manufacturer of post-operative compression garments and anti-embolism stockings. We are family-owned company taking pride in delivering the highest quality product to hospitals and our customers. Founded in 2002, we have expanded in more than 75 countries worldwide.
---
Contact us
Call us: 020 8090 5001(Mo – Fr, 9.00 am – 5.00 pm)
Whatsapp: 077 7607 2710
E-mail: [email protected]
Compression Boutique by LIPOELASTIC LTD.
Unit 12&13
8 Hornsey Street
London
N7 8EG